Email: sales@loveydoll.com
If Need To Review Nude Photos, Please Provide Email Address
5% OFF, Code: LOVEY DOLL
140cm (4ft7″) Sex Doll D Cup Lara
stars, based on
( 6 )
reviews
Material: Lifelike skin of Thermoplastic Elastomer (TPE) with a fully articulated posable metal skeleton.
Body measurements:
· Height: 140 cm
· Bust: 72 cm
· Waist: 51 cm
· Hips: 74 cm
· Weight: 23 kg
Clothing Sizes:
· Bra size: D
· Shoe size: 37
· Confection size: 34-36
Appearance:
· Wig: #4, black
· Skin color: tanned
· Eye color: brown
· Fingernails: french natural
· Toe nails: red
Love holes:
· Mouth depth: 15 cm
· Vagina: permanently installed
· Vagina depth: 19.5 cm
· Vagina diameter: 2,5 cm
· Anal depth: 19.5 cm
· Anal diameter: 2 cm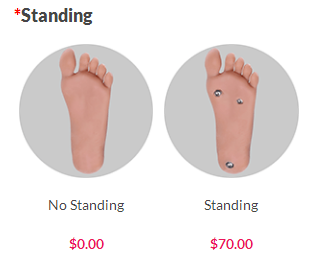 Description:

Our dolls are made of safe and non-toxic medical silica gel (TPE), which is soft to touch and feel nearly as real.With fully articulated poseable metal alloy skeleton, she can be posed in any position as a real woman.All sex dolls come with 3 holes (anal, vaginal, mouth) for your ultimate sexual pleasure.Privacy guaranteed – your privacy is of the utmost importance to us and with our discreet packaging you can shop in confidence.
Advantages of owning a sex doll:

There are a ton of options available for you to choose from with EU, North-America, China, Japan or Manga styles offered in different sizes.You have different color variants to choose from and some of the babes feature vibrating holes for enhanced stimulation.You can try any position you have in mind and live all your wild fantasies with these sex dolls. They can be played with both the front and back side.Regular practice will boost your sexual stamina to a whole new level. No need to use a condom.All the available models are pretty easy to clean and maintain. Play with these orgasmic figurines anytime, anywhere, day or night. They will never let you know they have a headache.Unlike women, these sex dolls will never ask for anything from you and would not stop you from seeing other women. No need to worry about pregnancy, STD's or getting dirty.
ByDerri InWednesday, 22 April 2020
The doll head, body, skin tone, and size are all accurate. Their customer services was excellent!! They respond to all my email and questions extremely fast.
ByAndyThursday, 11 April 2019
Could I get more pictures please? I'm looking for my first one to buy. Thank you.
ByAverage JoeTuesday, 12 February 2019
Good use, the quality is also good at the moment. I hope this doll can be used for more than five years.
ByBobbyWednesday, 06 February 2019
The doll is exactly as pictured, you will not be disappointed with its appearance. It looks amazing in person! It is pretty heavy to move around so eat your wheaties!
ByStanford Wednesday, 23 January 2019
The doll is very beautiful , it is better than expected after receiving it . It also feels good to use it .
ByDannyThursday, 20 December 2018
Excellent service and products! Lowest prices compared to other sites. Reputable company and will definitely purchase again from this seller!

Your cart is currently empty.