Email: sales@loveydoll.com
If Need To Review Nude Photos, Please Provide Email Address
5% OFF, Code: LOVEY DOLL
110cm (3ft8″) Mini Adult Sex Doll C Cup Gina
stars, based on
( 5 )
reviews
Material: Lifelike skin of Thermoplastic Elastomer (TPE) with a fully articulated posable metal skeleton.
Body measurements:
· Height: 110 cm
· Bust: 65 cm
· Waist: 42 cm
· Hips: 62 cm
· Weight: 18 kg
· Sole length: 13 cm

Appearance:
· Wig: Light Red
· Skin color: light tan
· Eye color: blue
· Bra size: 30C
Love holes:
·
· Oral depth: 8 cm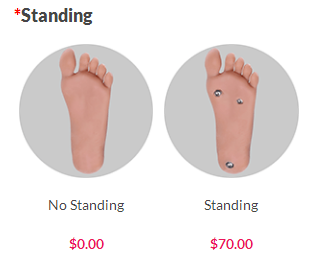 Description:

Our dolls are made of safe and non-toxic medical silica gel (TPE), which is soft to touch and feel nearly as real.With fully articulated poseable metal alloy skeleton, she can be posed in any position as a real woman.All sex dolls come with 3 holes (anal, vaginal, mouth) for your ultimate sexual pleasure.Privacy guaranteed – your privacy is of the utmost importance to us and with our discreet packaging you can shop in confidence.
Advantages of owning a sex doll:

There are a ton of options available for you to choose from with EU, North-America, China, Japan or Manga styles offered in different sizes.You have different color variants to choose from and some of the babes feature vibrating holes for enhanced stimulation.You can try any position you have in mind and live all your wild fantasies with these sex dolls. They can be played with both the front and back side.Regular practice will boost your sexual stamina to a whole new level. No need to use a condom.All the available models are pretty easy to clean and maintain. Play with these orgasmic figurines anytime, anywhere, day or night. They will never let you know they have a headache.Unlike women, these sex dolls will never ask for anything from you and would not stop you from seeing other women. No need to worry about pregnancy, STD's or getting dirty.
ByNestorTuesday, 25 June 2019
The doll is very realistic, exactly the same as the posted pictures, and fit almost all the descriptions given by the seller (I just received the doll for a few hours and so far has not find any seller description to be wrong) . I would say the actual thing is better than my expectation. Only negative part I wanna point out is that the doll is really heavy, it's not easy to move it around for me, but I figure that's how most of the silicon or TPE dolls are nowadays, being heavy as hell
ByLiam Monday, 10 June 2019
Absolutely LOVE It. Good quality. The fingernails needs some more glue, cuz it easly comes off. But over all good product. I love dressing it up with custom outfits. Please NOTE, it doesn't stand on feet. You have to lay her on your bed or on a chair to stay put.
ByHeatherThursday, 30 May 2019
I got the doll almost 10 days after purchased , and its pretty fast since its from china to California. Overall, its really real and i promise its same as the picture(you can choose own hair and eye ball style). The pack is really strong and secret, so don't need to worry about the safety and privacy. It is very comfortable to use and its feels like a real person. My only concern is that it is a "heavy person", and personally it is not a easy to move her around, but the advantage is that the weight gives you a better feeling as you are with a real person. I would thank the customer who answer a lot of my questions. I would recommend the doll.
ByTiffany Wednesday, 08 May 2019
I love it, exactly as advertised, very pretty, very sexy, very fulfilling. Julie from KingMansion was very helpful with the sale. Anna's skin is soft and tender, tits are a large mouthful, and well, her other assets are delightfully enjoyable. She is great in bed, in any position, whether 69, one of our favorites, dogie style, missionary style, you name it. She never disagrees and it makes me think of the song, Imaginary Lover by Atlanta Rhythm Section. I would highly recomend KingMansion and their lovely choice of ladies.
ByAndrew BudnerThursday, 11 April 2019
She looks so cute, I like her very much.

Your cart is currently empty.